Downloading and printing
PDF

files
Overview
The SongBook can export any song or set list to a PDF file. To view a PDF file, you will need to have the Adobe Acrobat Reader installed. You can download this program for free from Adobe's website.
Downloading a
PDF

file from the SongBook

While viewing any song or set list, click

at the top of the page to download a PDF version of whatever you are currently viewing. If you switched arrangements or transposed a song in the current view, those changes will be included in the downloaded PDF file.
Note: Some computers provide a way to "print to PDF" or save a web page as a PDF. Be sure to download PDF files from the SongBook by clicking

to ensure the correct font size while printing.
Printing a
PDF

file
View the

PDF

file in Acrobat Reader.
Click File > Print….
Set Page Scaling to Shrink to Printable Area.
Make sure Auto-Rotate and Center is checked.
Click

OK

.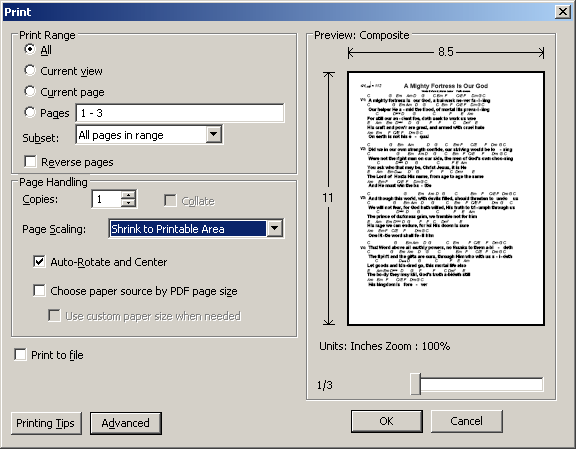 ---
See also