More organization of guest information
On the previous page we saw some ways of looking at your guests' information. Here are a few more ways you can do this:
Looking at tags
If you click on the "Tags" menu item on the left-hand side of the GuestView page, you'll see a list of your church's tags: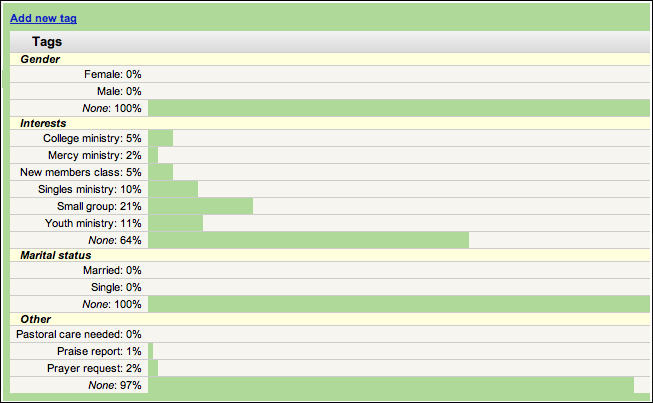 At a glance this lets you compare the tags; for example, here you can see that twice as many guests expressed interest in youth ministry as in college ministry. Furthermore, you can click on any tag to see a list of all of the guests that are marked with that tag.
Later we will see how to customize these tags for your church's needs.
Looking at callers
If you click on the "Users" menu item on the left-hand side of the GuestView page, you'll see a list of all of the people on your follow-up team. At a quick glance, this list will show you how many guests each team member has followed up with, including the number of guests that are still in active follow-up. You can use this to check up on your team and remind individuals who are behind on their calls: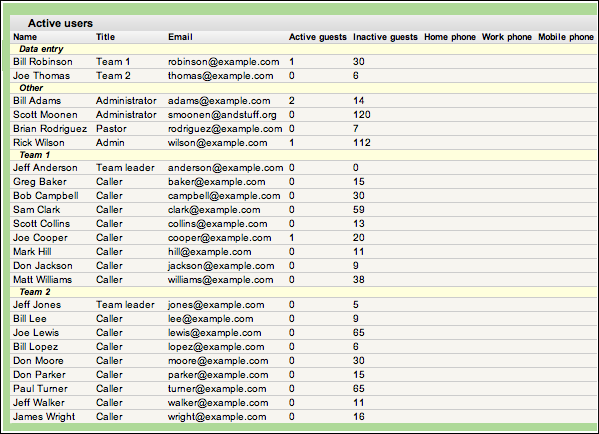 Historical trends
Finally, you can click the "Trends" menu item on the left-hand side of the GuestView page to see a historical chart of how many guests visited your church each week: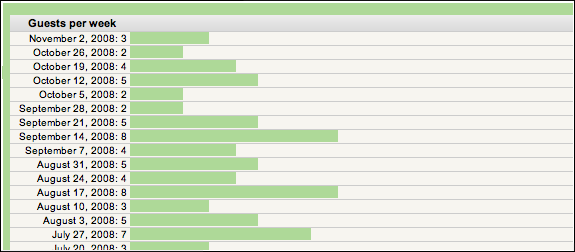 Now that we've seen some of the ways that tags can be used, let's look at how to customize your tags to meet your church's needs ›